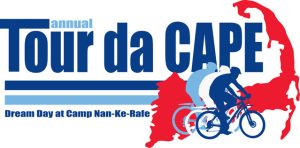 What began as a friendly Boston to Cape Cod group bike ride in 2003, has evolved into a special annual event that has raised well over $150,000 for Dream Day On Cape Cod- a camp for seriously ill children and their families. Riders gather together outside of Boston before dawn in early June and make their way to Brewster. The ride ends at Dream Day's family camp in Brewster, Camp Nan-Ke-Rafe.
Dream Day on Cape Cod serves families that have children with life-threatening illnesses and or serious conditions by seeking to "bring a ray of sunshine" into their lives. The primary way we serve families is through our family camp, Camp Nan-Ke-Rafe, located in Brewster, Massachusetts. Each summer we operate six sessions of family camp – bringing families down to the Cape for a week of fun, family, and respite. Our hope is that families have the chance to create loving, lasting memories that transcend illness and struggle.
Join us for a scenic, marked, and fully supported century (link to a map of the route) starting in Sharon and finishing at the Dream Day On Cape Cod Camp in Brewster. You'll find water stops along the way and showers at the finish where you'll be treated to a fully stocked New England Clambake! We'll transport your bags and help you arrange transportation back to the start.
Funds raised from the Tour da Cape go directly to fund the camps programs. Dream Day is a 501[c]3 nonprofit organization and donations are fully tax deductable.
https://www.firstgiving.com/fundraiser/john-hennessey-2/tour-da-cape-2016